Total Protection Roofing System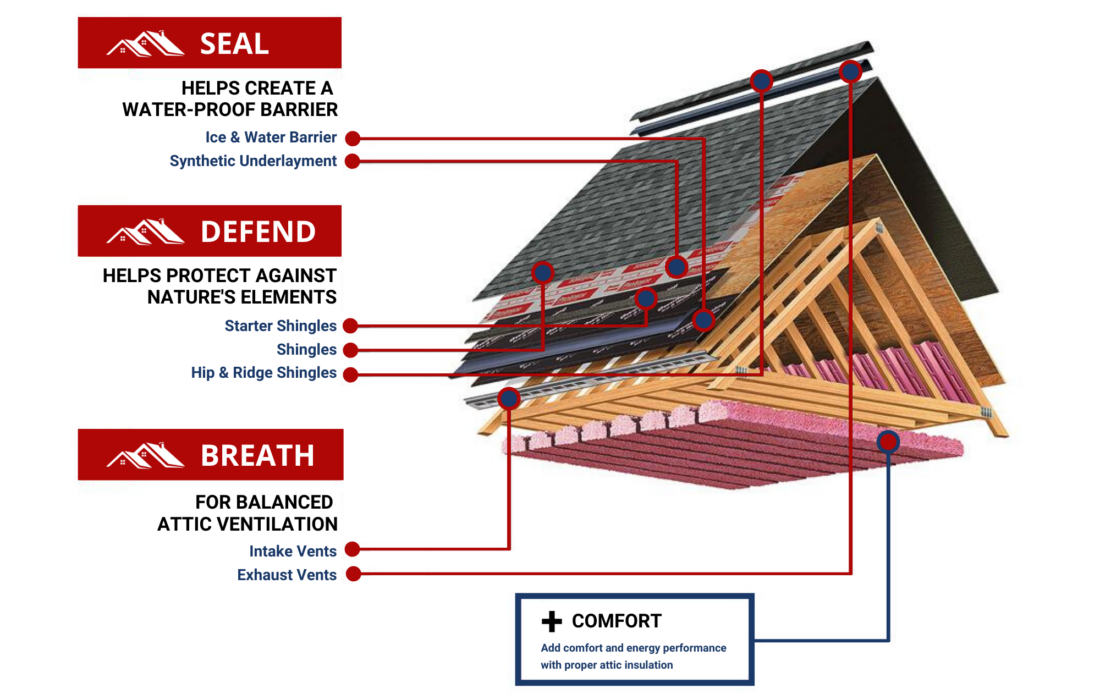 Why Work With Us?
At Ikon Roofing, we don't just install roofs; we create peace of mind. Our commitment to excellence means that we offer not only competitive prices but also top-tier quality, so you can trust that your investment is safeguarded. What sets us apart is our unwavering dedication to you, our valued customer.
Here's why you should work with us:
Tailored Solutions: Our customer-centric approach ensures that we tailor our roofing solutions to meet your unique needs, no matter the property type or location.
Reliable and Responsive: Need a fast response? We've got you covered with same-day estimates. Our expert roofers are just a call away, ready to provide the solutions you require.
Long-Term Relationships: Beyond roofing, we build lasting relationships based on trust and satisfaction. Our ultimate goal is to be your trusted partner, securing your home and peace of mind.
Choose Ikon Roofing today, and experience roofing excellence like never before. Call us now and experience the difference!
Customer Testimonials
Very professional company. From the initial inspection to their installation, the roof replacement was seamless and highly organized. We received 3 quotes and decided to go with Ikon because they... read more simply stood out. I had a very pleasant conversation with Mike as he gave me detailed explanation of the products, options, and prices. Very professional and customer oriented. Very satisfied with the work.

Mitchell Rosenthal


December 13, 2022

I had leaks that were repaired and they did a great job. No more leaks. Great customer service and reliable. Thanks!

George I


February 22, 2022

Thank you guys for everything! We had a roof leak that would damage our walls and windows. We contacted Ikon Roofing and told them of our problem. They were able... read more to pinpoint the issue and provide a solution. The roofers came out on such short notice and worked quickly and efficiently. They were done with the work in no time. So thankful. It rained that same night and we didn't have any leaks !!!

Hayarpi Oganesyan


August 22, 2021

Ikon rep was professional, on time, and was able to fix both issues same day. Very clean work. I would recommend them to anyone needing any roof work.

AJ S.


February 22, 2022

Thanks to the entire Ikon crew for replacing our tile roof. Our new roof is beautiful. Very professional and easy to work with. Mike was our project manager and he... read more was on top of it. Crew always showed up on time and made the entire process seamless. Very competitive prices. Will definitely recommend.

Spencer Galbreath


August 22, 2021

I came across Ikon Roofing with a local search for roofers. Spoke to Mike from Ikon Roofing about a leak we had on our tile roof. Mike showed up the... read more same day and found the issue. Next day the repairs were made. Headache free and easy. Very friendly, reasonable, and professional. Highly recommend.

Armen Tahanian


August 22, 2021

Ikon Roofing just completed the replacement of our shingle roof today. They were courteous, reasonably priced, and did a fantastic job in a timely manner. They identified and replaced fascia boards that... read more were bad or going bad, even going the extra mile to replace all the fascia around our patio for a consistent and finished look. Our new roof looks great and we appreciate the thorough cleanup they did after the job was complete. Mike was awesome and made himself available to answer questions and concerns. We would highly recommend them!

Nicholas Gyutyan


October 22, 2021

I just had my roof replaced and can't be happier with results and service. They also provide a great warranty. Highly recommend Mike and his team.

Ken Garner


February 22, 2022

Big thank you to the Ikon crew. They were referred to us by my friend who used them for their roof replacement. We got our roof replaced and It looks... read more great. These guys are trustworthy, upfront and easy to work with. Highly recommend.

Primitive Zen


January 22, 2022

I used Ikon for an emergency repair. The guys that came out made the issue painless. The quote was quick and their prices were fair.

Vache Gyulnazaryan


August 22, 2021

Excellent! This last big rain in LA showed us we had a small leak in our roof above the garage. We reached out to so many roofers, many... read more of which didn't even answer or get back to us at all. But, Ikon reached back out that day, told us their schedule and how they would try to squeeze us in to make sure whatever problem we had, was addressed quickly to avoid any major damage. They made time in their schedule to come out, assess our roof and instead of creating a problem when there wasn't one, they saw it was only a small leak caused by an old sealant cracking. A simple fix! Where as a few of the other roofers came by and only quoted a new roof???!!! Michael quickly fixed it, sent us pictures of the repair, and was on his way with no hassle. Can't speak highly enough of the level of response, communication and work done by Ikon. A must call if you need roofing help!

Mitchell Fink


January 20, 2023

I had a leak in my roof, so I contacted Vince from Ikon Roofing for a quote. They came out the next day and diagnosed the issue with a couple... read more of vents. They were back the very next day to complete the repairs. They showed us pictures of the repairs and it looks great. Price was very reasonable. Thanks guys!

Simon Skura


August 22, 2021

We needed to have our roof replaced so we scheduled appointments with multiple roofing companies we found through Yelp. I spoke to Mike and he came out and measured my... read more roof. I received multiple bids and their pricing was competitive. Besides the pricing, Mike made me feel comfortable with the process and he spent time explaining my options. I really felt like I understood what was going on. They arrived when they said they would and their quality was top notch. What really stood out to me was that they would clean my entire property after each work day. Their crew is professional, nice, and know what they are doing. Overall, they are responsive, communicative, timely, fair and my roof came out beautiful! I highly recommend.

Nick Mkrtchyan


August 22, 2021

Very professional and accountable. The quote I received was what the job finished for. I quoted the project out and they had the lowest bid so I was surprised that... read more they actually did it for the price quoted. I have had issues in the past with dishonest vendors and it was refreshing to finally find an honest one. Thank you Ikon Roofing!

Jack Bazerkanian


February 22, 2022

I found Ikon along with other roofing companies on Yelp. I hired Ikon because they took the time to explain the process thoroughly. Their presentation was great which turned out... read more to be a reflection of their work. My roof was old and had previous leaks. They replaced my roof and it looks great! The team was very responsive, professional and took the time to explain the replacement process thoroughly. They also provide a great warranty which is comforting. Will definitely recommend!

Michael Chase


August 22, 2021

I am pleased with the work done by Ikon Roofing. The crew arrived on time every morning, cleaned up the area every day, and were professional. They did an excellent... read more job. They did the job they were hired to do. I would not hesitate to refer them. Vince, the field supervisor answered all questions I had with patience and care.

Andy Zanazanian


August 22, 2021

Mike did a terrific job! Friendly, very helpful, and he really went the extra mile. He provided great work at an excellent price!

Steve Hull


December 20, 2022

Michael Nalbandian is now officially my corporate roofer. We had the rain storms around Thanksgiving and our roof sprung leaks is multiple places. We called several roofing companies, many of... read more which did not even respond, came off as busy and careless. But Michael showed up, he was very responsive, very reasonable priced and thorough, and did a good job. He warranted his work well, and one set of rains later, we are thus far leak free. If we have any more roof issues, we are calling Ikon Roofing. Thank you

Arsen Hovanesyan


December 13, 2022

Honest and upfront company. We had some repairs done on our house due to high winds. We called Ikon Roofing and they gave us a great price and handled the... read more repairs the next day. Hassle free service with great warranty. We will definitely recommend them to friends and family.

zviad antadze


September 22, 2021

We called a few roofing contractors for estimates for our much needed roof replacement. What set Mike apart from others was his professionalism and punctuality. Appointments were always kept, the... read more estimate and contract were clearly written. During the process I had questions and Mike was quick to respond every time. The tear off, repairs and roof replacement went without a problem and when the crews were finished our yard was cleaned of all debris and nails. It's obvious they know their business and they are all about customer service. I recommend Mike and his crew.

Zarutsky LIVE


March 22, 2022
WE ONLY WORK WITH THE HIGHEST QUALITY MANUFACTURERS