Basics of a Roofing System
From curb appeal to home safety, your roof keeps your home looking sharp and dry. Your roof can account for up to 40 percent of your home's exterior.
If it's in good shape, your roof serves as a barrier against snow, hail, rain, ice, branches, and debris. If your roof is in poor shape, your home can get leaks, develop mold and mildew, and experience other problems.
Most homeowners will need to replace their roof at some point, but many don't know where to start. That's why we've outlined the most common roofing terms and components to be familiar with before starting any roofing project.
What Is a Roof Made Of?
There are seven basic roofing components.
Shingles: These can be made of a variety of materials, but their main purpose is to protect underlying sheathing from the weather.
Sheathing: Boards or sheet material that are attached to the rafters that cover your home. This is also referred to as the deck of a roof.
Trim: Installed to protect the seam in the roof along a hip or ridge.
Rafters: These are the wood or metal boards inside your home that support the sheathing and shingles. You can think of rafters as the skeleton for your roof.
Underlayment: Water-resistant, paper-like material that is laid over plywood sheathing to seal it from damaging elements such as rain and snow. This is used with a membrane and vapor barrier, which is typically a sheet of plastic blocking air and water from seeping through.
Flashing: Sheet metal or other material installed on top of the joints of a roof system to prevent water damage. The joints of your roof are anywhere it changes direction, and flashing is used to help seal these points off from the elements.
Drainage: The design feature of a roof that allows it to shed water.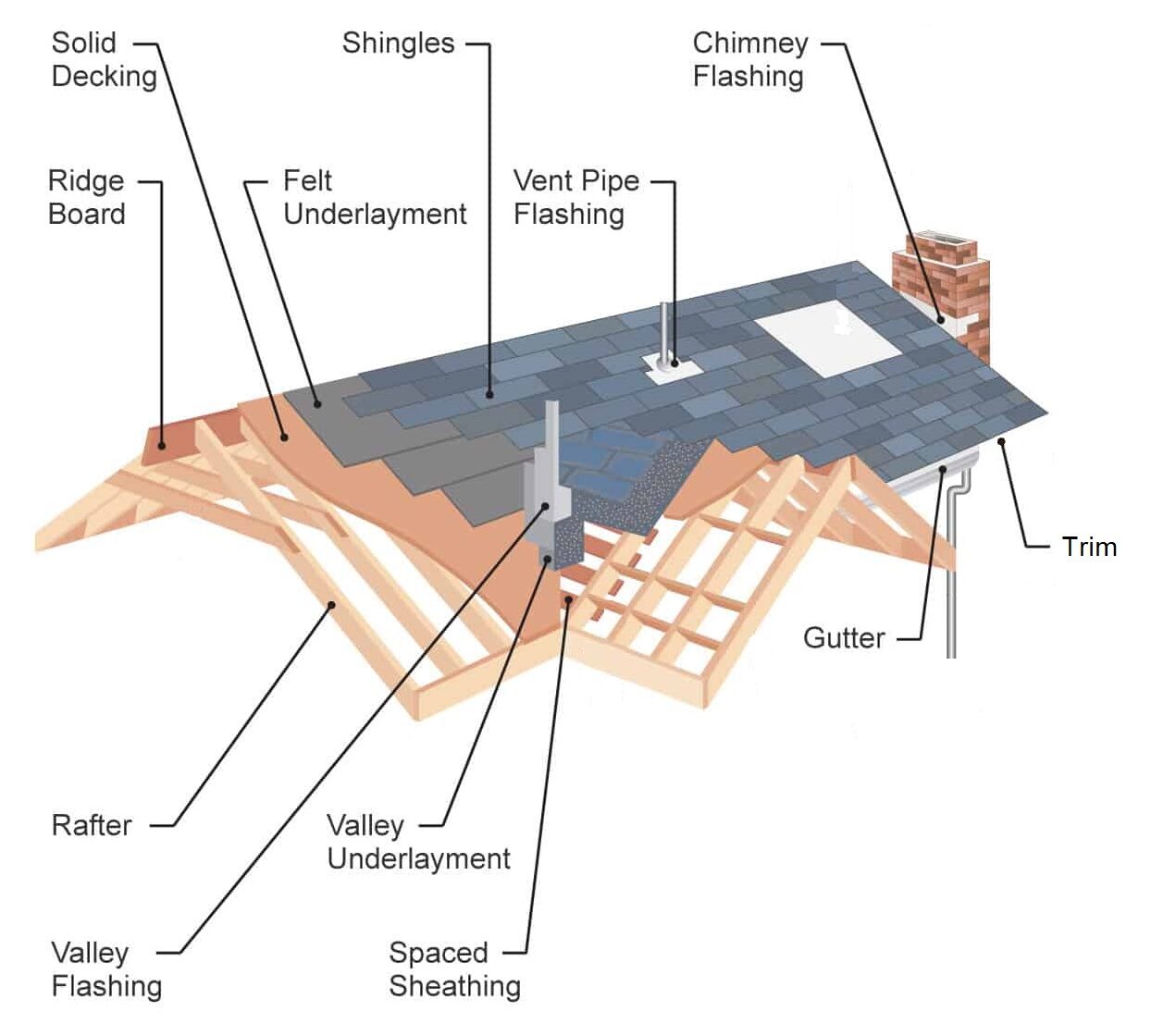 Common Roof Design Elements
After you understand the components that make up your roof, it's important to identify roofing design elements, and which ones apply to your home.
Gable Wall: These are triangular portions of the home which extend from the eaves to the peak of the roof.
Centerline of Ridge: This refers to the wall or rafter under the edge of a roof where a gable ends.
Ridge: This is the highest point of the roof, which is also referred to as the peak.
Valley: The areas of the roof where two sections meet and slope down.
Eaves: Edges of the roof that hang over the exterior walls of a home.
Abutment: Where sections of the roof meet a vertical area such as a wall or chimney.
Dormers: These are sections of the home that stick out from the roof, designed to bring in natural light to an attic or third floor.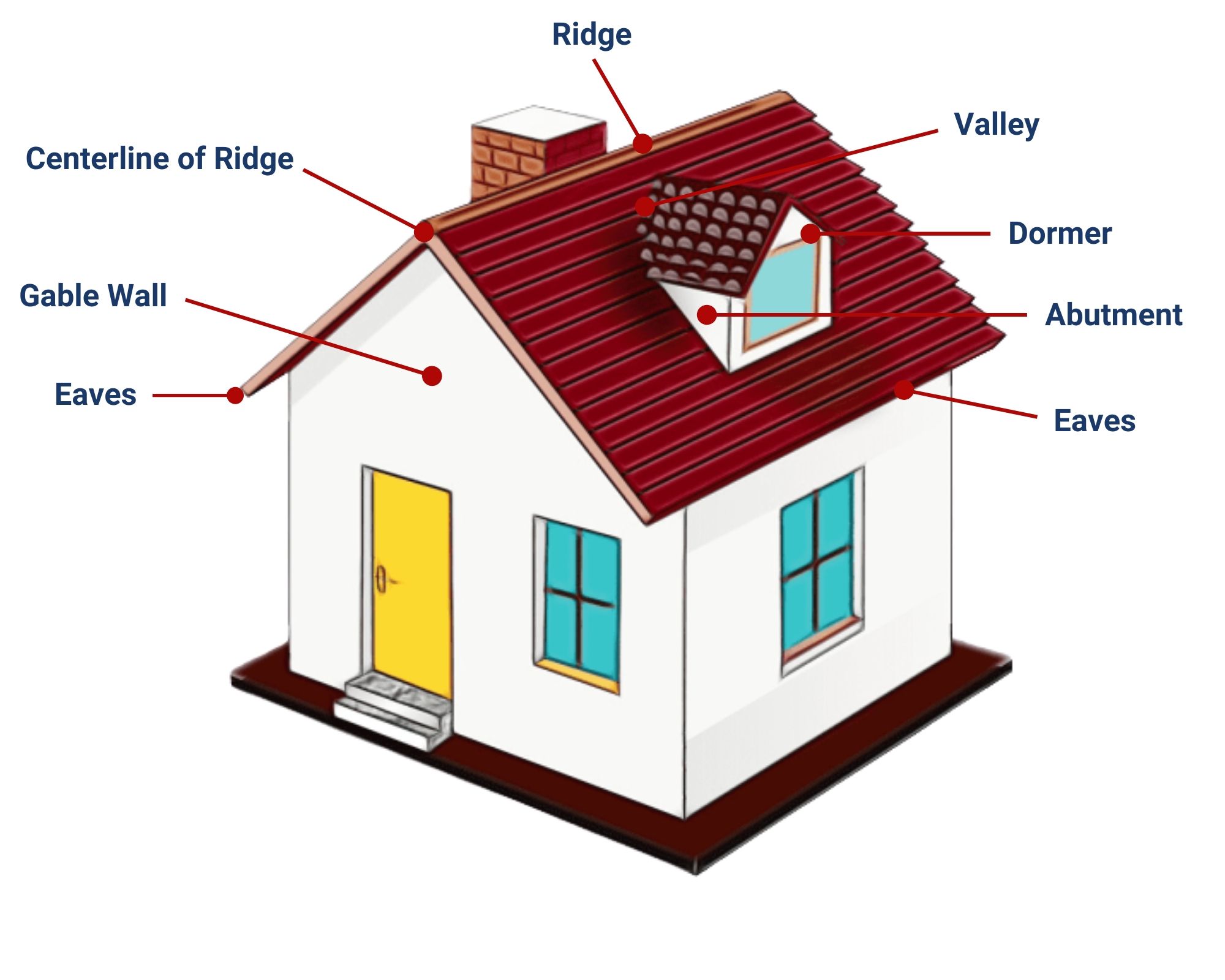 Here's Everything Else You Should Know Before Replacing Your Roof
When Your Roof Was Installed or Repaired Last
Does your home have the original roof, or were repairs made within the past few years? Depending on the type of shingles you have and the age of your roof, you may need to keep an eye out for leaks or even schedule a replacement. When your roof needs to be replaced will depend on the existing structure and shingle type. Asphalt shingles will hold up for 20 years.
How Your Roof is Ventilated
Proper ventilation is important for a healthy roof system. If your roof lacks air flow it may be susceptible to mold and mildew. In addition to a main vent in your roof, there are a few other factors that affect how air moves through your attic to the roof.
Do a quick run through your attic to check for the following:
• A gap-free layer of insulation on the attic floor to protect the house from heat gain and loss.
• A vapor barrier under the insulation and next to the ceiling to stop moisture from rising into the attic.
• Enough open, vented spaces to allow air to pass in and out freely. Typically, a roof should have 1 foot of vent space for every 150 square feet of attic space.
• A minimum of 1 inch between the insulation and roof sheathing.
What Type of Shingles You Have
A variety of materials can be used as shingles, from asphalt to wood or even slate. Each one comes with a different warranty, and durability depends on your area. Keep in mind that harsh weather conditions such as high winds or extreme cold can crack clay shingles.
The Fire Rating of Your Roof
Fire rating is a system for classifying the fire resistances of roofing materials. Classes are labeled A, B and C. Class A materials have the highest resistance to fire that originates from outside of the structure, and these include clay tiles, fiberglass asphalt composition shingles and metal roofing.
Pitch, or Slope, of Your Roof
Pitch will determine what type of shingles are best suited for your roof.

Deciding on a new roof can seem like a daunting task. There are several different elements that go into making the right decision. Our team is highly specialized in guiding our customers with their proper roofing solution. We will break down all your options, materials, timelines, and budget.
Next, we will come out to your property and get the needed measurements in order to provide you with your free quote. We make sure to include all prices upfront with absolutely no hidden fees.
Our team has over 28 years of experience. We go through monthly and annual training to make sure we are up to date with local city codes, training, and certification. We strive to become better every day.
Want to learn more about your options? Contact us.